---
Its flowers are protected by distraction, a strategy used by many (2022) by Martijn Petrus
---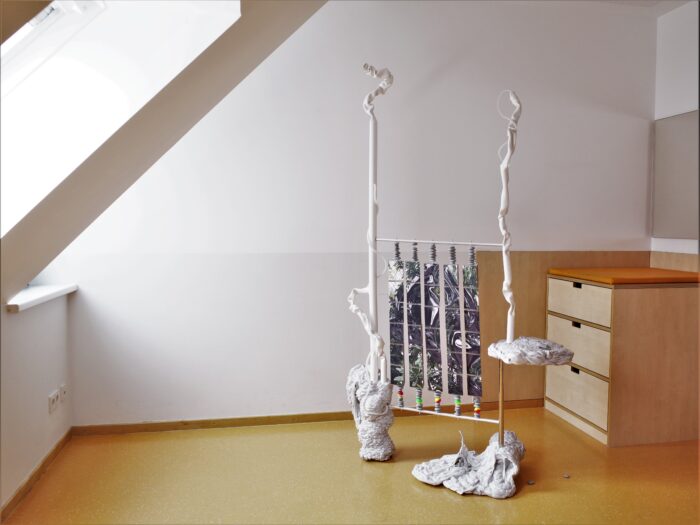 ---
The installation – a puzzle triptych consisting of mobile triangular blocks – was created from the idea of what it means to wait. Waiting for the bus, waiting for the green light, waiting for your loved one to answer a message, waiting in line for the toilet, waiting for the doctor to see you, waiting for the pediatrician to see your child, and so on.
In our lives, waiting is considered a waste of time, precious time that should be filled with something useful, or at least some form of activity. Checking social media, a quick game on the smartphone, flipping through a magazine, reading the news or preparing the meal for tonight in your head.
Since the time we have to wait is usually quite short, the activity should be finished within this time frame and give us satisfaction. In this way, we can say to ourselves that we have not wasted any time.
The puzzle created for "Kinder Warteraum" (children's waiting room) was inspired by the brain-stimulating toys found in such rooms. I remember as a child having to go to the pediatrician for checkups every year, and especially in my younger years, I was always a little disappointed when it was time to go to the doctor and I had to leave the toys behind. However, I don't remember placing much value on solving the puzzle or playing out the game, maybe that's more of an adult thing.
Solving this seemingly simple puzzle is more time consuming than it initially appears. The puzzle consists of sections that can be rotated individually. On each side of the triangular blocks is a piece of a picture. In total, there are three puzzles that can be solved by rotating the individual blocks. The images-which are sort of collages of the same picture with three different 3D renders that create a mirrored illusion-are very similar, and it takes a lot of attention to detail to be able to solve the puzzles correctly, let alone to solve all three within the time you have for the doctor. And so the brain-stimulating activity became a waste of time.
---
---